Ogemaw Sport and Trail Center: Michigan's Premier ORV Motocross and eBike Campground
Discover the ultimate off-road adventure destination in Rose City, Michigan, at the Ogemaw Sport and Trail Center (OSTC). As the best campground for ORV riders in the state, OSTC offers a unique and exciting experience for motocross and eBike enthusiasts alike. The well-maintained facility serves as an excellent base camp for exploring the numerous miles of state trails surrounding the property. Open for riding every day and boasting a rich history of nurturing some of Michigan's top riders, OSTC is the go-to destination for outdoor enthusiasts seeking thrilling adventures and unforgettable memories.
An Unbeatable Location for Off-Road Adventures
OSTC's prime location offers direct access to an extensive network of state trails, providing countless opportunities for ORV, motocross, and eBike riders to explore the breathtaking Michigan landscape. From challenging hill climbs and winding single tracks to scenic woodland trails, there's something for everyone at OSTC. The campground's proximity to these diverse trails makes it the perfect base camp for off-road enthusiasts looking to immerse themselves in the Michigan outdoors.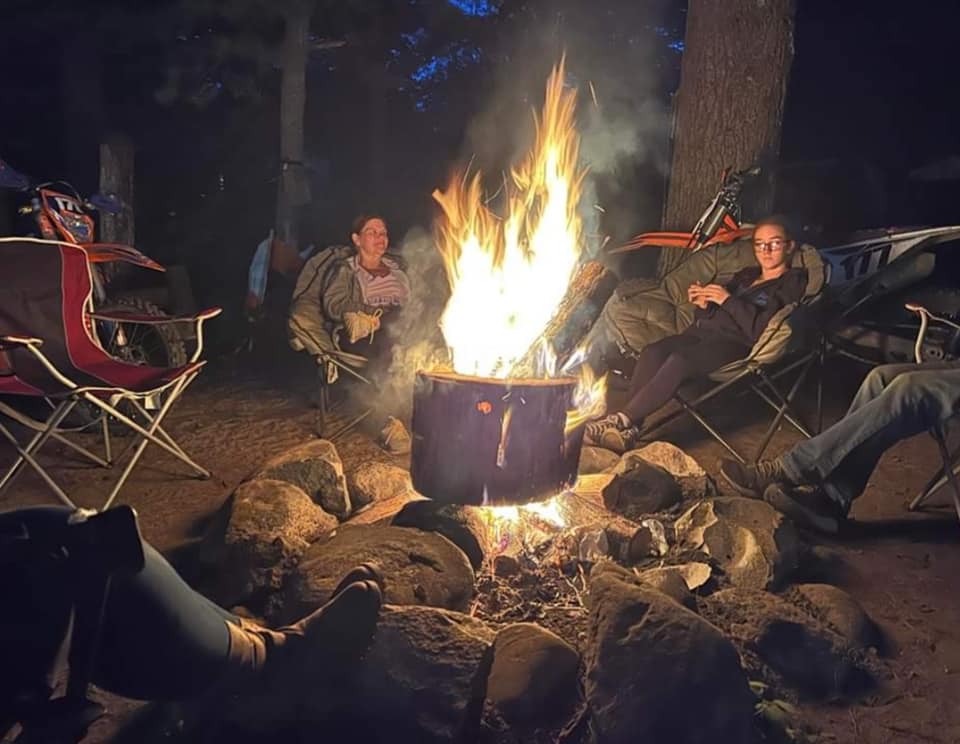 Comfort and Convenience
OSTC's campground is designed to cater to the needs of modern adventurers, providing a variety of amenities that guarantee a comfortable stay, including:
Flush Toilets: Clean and well-maintained restrooms ensure you have access to essential facilities during your stay.
New Shower: Refresh and rejuvenate with a hot shower in OSTC's modern shower facilities, perfect for washing off the day's dirt and sweat.
Electric and Water Sites Available: Enjoy the convenience of electric and water hookups at select campsites, providing the comforts of home in the great outdoors.
On-site Dump Station: Easily and responsibly dispose of waste at OSTC's on-site dump station, designed to make your camping experience hassle-free.
Recreation and Adventure
At OSTC, adventure and fun are always at your fingertips. With a variety of recreational activities and facilities, there's never a dull moment during your stay:
Sand Volleyball: Unwind and have some friendly competition on the sand volleyball court, a great way to bond with family and friends.
Tracks, Trails, and Scrambles Area: Explore the diverse riding opportunities available at OSTC, including motocross tracks, single-track trails, and a scrambles area designed for riders of all skill levels.
Fire Pits: Gather around a cozy fire pit and share stories, roast marshmallows, or simply enjoy the warmth of the flames under a starry sky.
Honest Camping and Riding Rates
Experience the thrill of OSTC's off-road adventures and the serenity of its wooded campsites with these affordable rates:
Camping:
$30.00 per day for 2 adults & 3 children under 16 years of age, or 3 adults.
Daily Riding Fees:
Under 7 years of age: $15.00

8 to 10 years of age: $20.00

Over 10 years of age: $30.00
Mountain, Class 1, and Class 2 Pedal Assist Bikes:
$10.00 per day
Camping for Non-Riders
Non-riders are also welcome to enjoy the beautiful surroundings and easy access to hundreds of State ORV marked trails. The camping rates for non-riders are as follows:
$50.00 per day for 2 adults & 3 children under 16 years of age, or 3 adults, with each additional guest charged $10.00 per day.
All riders under 18 must have a waiver signed by their parents or legal guardians to participate in activities at Ogemaw Sport & Trail Center LLC. Additionally, riders under 18 are required to wear appropriate safety gear, including a helmet, boots, and goggles, to ensure their protection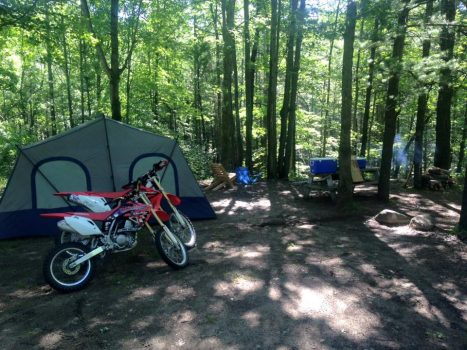 Experience Secluded Camping Bliss at Ogemaw Sport and Trail Center's Wooded Campsites
For outdoor enthusiasts seeking a serene and secluded camping experience, Ogemaw Sport and Trail Center (OSTC) in Rose City, Michigan, offers the perfect retreat. Nestled among the beautiful Michigan woodlands, OSTC's private, wooded campsites provide an idyllic setting for visitors to unwind and reconnect with nature while enjoying modern amenities and access to exciting off-road adventures.