Cyrusher XF800 Mountain Electric Bike – A Game Changer in Off-Road Riding
At Ogemaw Sport and Trail Center (OSTC), we are always on the lookout for exceptional equipment to elevate our guests' off-road experiences. We recently had the opportunity to test the Cyrusher XF800 Mountain Electric Bike, a top-of-the-line e-bike designed to revolutionize off-road cycling. Here's what we discovered.
The Cyrusher XF800 is a powerful and versatile e-bike that boasts a 750W motor and a 13Ah battery, ensuring plenty of power for tackling our challenging motocross tracks, hill climbs, and technical single-track trails. The bike's high-capacity battery provides ample range for extended rides, allowing our guests to fully explore the diverse terrain and trail network at OSTC.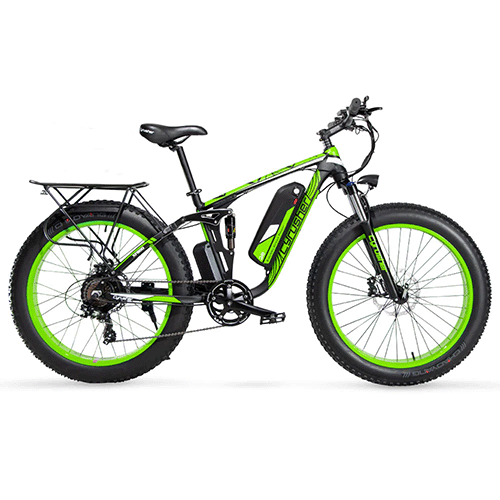 One of the most impressive features of the XF800 is its full suspension system, which absorbs impacts and provides a smooth, comfortable ride even on rough off-road terrain. This feature, combined with the bike's responsive hydraulic disc brakes, ensures exceptional control and handling in various riding conditions.
The Cyrusher XF800's design incorporates a user-friendly LCD display that allows riders to monitor and adjust settings, such as power output and pedal-assist levels, with ease. This feature enhances the overall riding experience, enabling riders to customize their e-bike's performance to suit their preferences and the demands of the trail.
Throughout our testing, the Cyrusher XF800 consistently impressed us with its power, agility, and adaptability. The bike's high-quality components and innovative features make it an excellent choice for riders seeking a cutting-edge off-road cycling experience.
We are thrilled to offer the Cyrusher XF800 Mountain Electric Bike as part of our rental fleet at OSTC and encourage riders to give this game-changing e-bike a try during their next visit. Discover the future of cycling with the Cyrusher XF800 and elevate your off-road adventures to new heights of performance!