Cyrusher Montta – The Ultimate All-Terrain Electric Bike Experience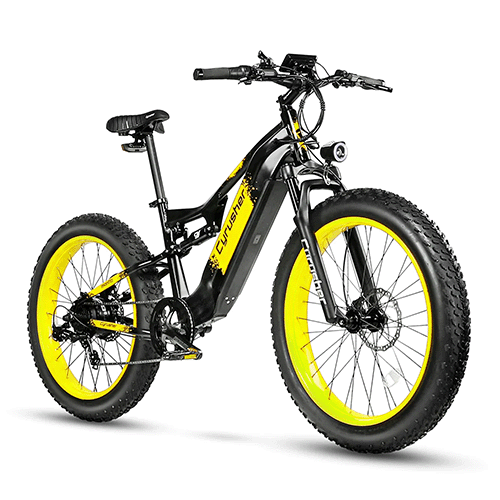 At Ogemaw Sport and Trail Center (OSTC), we pride ourselves on offering our riders top-of-the-line equipment to enhance their off-road adventures. Recently, we had the pleasure of testing the Cyrusher Montta, a new all-terrain electric bike released in 2023. This e-bike boasts a powerful 750W motor, a 17Ah battery, and a host of impressive features, making it an excellent addition to our lineup.
The Montta's standout feature is its 26″ x 4″ low-side fat tires, which provide exceptional traction and stability across a wide range of terrains. These tires allowed our riders to confidently navigate our challenging motocross tracks, hill climbs, and technical single-track trails. The fat tires also contribute to a comfortable and smooth ride, even when tackling obstacles or rough terrain.
Equipped with a 48V 17Ah high-capacity battery, the Montta is designed for long-distance rides, allowing our riders to explore the vast network of trails surrounding OSTC without worrying about running out of power. This feature greatly enhances the overall riding experience and adds an extra layer of convenience for our guests.
Another noteworthy aspect of the Montta is its Shimano 7-speed gear system. This versatile gearing setup allows riders to easily adapt to various terrains and inclines, ensuring optimal performance and efficiency throughout their off-road journey. The Shimano components also contribute to the bike's overall durability and reliability, making it a great investment for those looking to ride regularly at OSTC or other off-road destinations.
In conclusion, the Cyrusher Montta has proven to be a fantastic all-terrain electric bike that meets and exceeds our expectations. Its combination of power, versatility, and high-quality components make it an ideal choice for riders seeking a thrilling and reliable off-road experience. We are excited to offer the Montta as part of our rental fleet at OSTC and encourage riders to give this exceptional e-bike a try on their next visit.