Get ready for the ride of a lifetime with the Cyrusher XF900 motorcycle-style eBike, now available for rent at Ogemaw Sport and Trail Center (OSTC). This all-terrain electric bike offers an unbeatable combination of performance, style, and comfort, making it the perfect choice for city cruising and off-road adventures alike.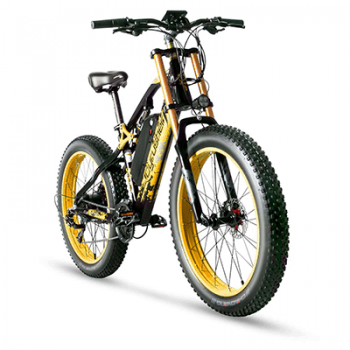 Powered by a 750W motor and equipped with a 17Ah battery, the Cyrusher XF900 delivers impressive power and range, ensuring you can conquer any terrain with ease. The high-quality suspension system provides a smooth and comfortable ride, while the ergonomic design guarantees maximum comfort and control throughout your journey.
With its sleek and stylish appearance, the Cyrusher XF900 is sure to turn heads wherever you go. The long-lasting battery life and fast charging capacity mean you can enjoy hours of riding without worrying about running out of power. Don't miss out on the chance to experience the thrill of the Cyrusher XF900 motorcycle-style eBike – rent yours at OSTC today and join the growing community of happy riders!