Cyrusher Ranger E-Bike Now Available for Rent at OSTC
We are excited to announce that the Cyrusher Ranger, a top-performing all-terrain electric bike, is now available for rent at Ogemaw Sport and Trail Center (OSTC)! Experience the thrill of off-road riding like never before with this powerful and versatile e-bike.
At OSTC, we strive to provide our riders with the best equipment and experiences. The Cyrusher Ranger has proven to be an exceptional addition to our rental fleet. Its 750W motor and 20Ah battery provide the power and endurance necessary to tackle our challenging motocross tracks, hill climbs, and technical single-track trails. With its advanced torque sensor system, this e-bike offers a smooth, natural, and responsive riding experience.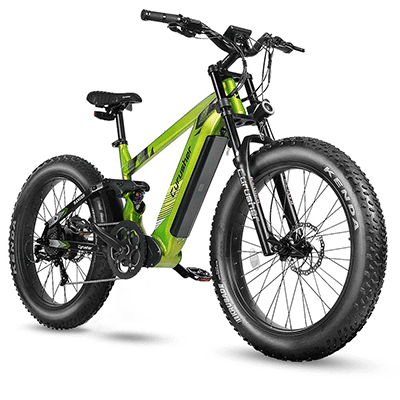 As an off-road and trail riding destination, we at Ogemaw Sport and Trail Center (OSTC) are always on the lookout for the best equipment for our riders. Recently, we had the opportunity to test the Cyrusher Ranger, an all-terrain electric bike designed to take your riding experience to the next level.
The Cyrusher Ranger is a powerful and versatile electric bike, boasting a 750W motor and a 20Ah battery. We were impressed by the bike's performance on the trails, as well as its speed and agility. The torque sensor made a noticeable difference in the bike's responsiveness and control, providing a smooth and natural riding experience.
One of the standout features of the Ranger is its durability. The rugged design and high-quality components ensure that this e-bike can handle the toughest trails and most challenging terrain with ease. Furthermore, the bike's suspension and tires offer excellent grip and stability, making it suitable for various riding styles and skill levels.
As an all-terrain electric bike, the Ranger truly lives up to its name. We found it to be equally at home on our motocross tracks, hill climbs, and technical single-track trails. The 750W motor provides more than enough power to conquer steep inclines and challenging obstacles, while the 20Ah battery ensures a long-lasting, uninterrupted ride.
For those looking for an e-bike that can handle the rigors of off-road riding, we highly recommend the Cyrusher Ranger . Its powerful performance, rugged design, and advanced features make it an excellent choice for riders seeking an adrenaline-pumping adventure at OSTC or any other off-road destination.
In conclusion, the Cyrusher Ranger is a top-notch all-terrain electric bike that has exceeded our expectations. Whether you're an experienced off-road rider or new to the world of e-bikes, the Ranger is sure to impress and elevate your trail-riding experience. We're thrilled to have had the chance to test this remarkable bike and can't wait to see what Cyrusher has in store for the future.